Fresh Water Flows in Uganda and is Still Going Strong
SPOON Exhibit & Event drummed up the attendees charitable spirits by uniting with The Water Project, Inc. a nonprofit organization that provides communities in desperate need with access to clean drinking water at the 2014 ExhibitorLive Conference. During this event, SPOON teamed up with The Water Project to assist the community of Byanamira, Uganda. Byanamira is a village made up of roughly 430 families, which before help from The Water Project, relied solely on rainwater collection for any semblance of clean water.
Uganda, being a landlocked country neighboring nations such as South Sudan, the Congo, and Rwanda, is full of communities in need of help. In 2010, the country still had 38 percent – nearly 40 percent of its population – living without clean water sources. Uganda also experienced an Ebola outbreak in 2014, and those in areas such as Byanamira frequently suffer from illnesses such as dysentery. One of the reasons it experiences one of the higher infant mortality rates in the world.
Seeing the opportunity to aid such a community, and hoping to shine a positive atmosphere on the charity event, SPOON came up with a creative concept. Rather than just presenting donators with the option to write a check, Spoon offered attendees to take part in the generous contribution by having fun at the same time.
Staffers invited booth visitors to take a chip and play a round of Plinko – a game made popular by the television game show The Price is Right. Instead of awarding a material prize, SPOON rewarded players by making a donation to The Water Project in their honor, allowing them to leave that evening with the knowledge they had helped their fellow mankind with basic needs such as hygiene and clean drinking water.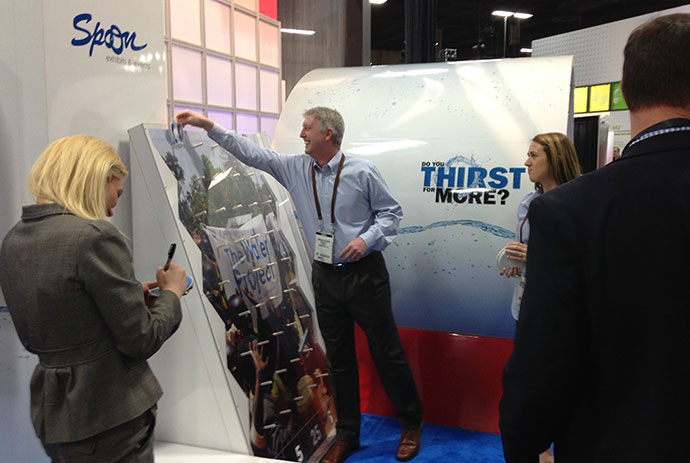 During the game, attendees dropped a CD-sized chip at the top of a slotted board. The chip would then descend, landing in one of five slots, a game of chance with sums that ranged from $5 to $25.
Select attendees received a branded Plinko chip as part of a pre-show direct mailer, which they could bring to the booth to double the amount of their charitable contribution. After playing their chips in the Plinko board, booth visitors were guided to one side of the exhibit where they signed a paper cutout in the shape of a water droplet. They then taped it on the aisle-facing wall, creating a visual representation of the company's philanthropic efforts – and the number of attendees who had taken part.
In the end, the approach created treasured moments for both the staff and those donating, and a $2,500 donation to The Water Project. The donation benefits the work of drilling a well for clean drinking water, as well as hygiene promotion, a team responsible for managing the well, and studies tracking progress in disease control and overall health improvement.